Supply Top Quality Permanent Automatic Magnetic Separator for Conveyor Belts: The use of magnetic separators in addition to its own performance related, will also be affected by some external factors, in which there are three key aspects.
Solid Suspended Permanent Belt Magnetic Separator for iron removing magnetic metal separator

Equipment maintenance. For magnetic separation machine maintenance is to ensure that the normal use of the premise and foundation of magnetic separator, magnetic separator in the long run, the mechanical internal components will continue to wear, which resulted in increased clearance, cooperate to change, magnetic separator should be static balance and dynamic balance is destroyed, work stability, reliability and mechanical work efficiency will be significantly lower, even can cause permanent damage some assembly and parts.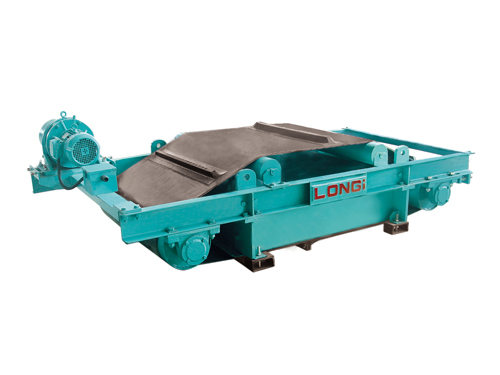 Permanent Magnet Drum Magnetic Separator Conveyor Belt Magnetic Separator
Each enterprise should build up the effective management mechanism, strengthen the management of magnetic separation machine maintenance, strictly implement the rules and regulations, according to the situation of construction machinery in recent years the use of and in good condition, work out annual maintenance plan, quarterly maintenance plan and monthly maintenance plan, and arrange the specialist is responsible for the inspection, on time according to the level to do a good job of maintenance, regular maintenance case detection, and seriously do magnetic separator maintenance records well.
Skill level of operator. With the wide application of new materials, new technology, new technology, magnetic separator types more complete, the structure is more complex, the magnetic separator operator requirements are also improving. Operators not only to understand the structure of the magnetic separator, principle, performance, master operating skills, but also have the magnetic separator fault diagnosis and maintenance capacity. Good technical level of operators to a large extent to improve the utilization rate of magnetic separators and completion rate, to avoid human factors caused by the damage of magnetic separators, shorten the magnetic separators maintenance time and maintenance cycle, to create good economic benefits for the enterprise.
The energy unit of a device. Now the power of large highway construction machinery ranging from one hundred kw to hundreds of kilowatts, so for the magnetic separator is powered energy device security, stability and economy has the very high request, magnetic separator before turning to, system maintenance and inspection device of energy to the output power of the generator, security and stability to conduct a comprehensive inspection work, provide strong power support for the normal operation of equipment.
Supply Top Quality Permanent Automatic Magnetic Separator for Conveyor Belts,Brands,Buy,Cheap,China,Custom,Discount,Factory,Manufacturers,OEM,Price,Promotions,Purchase,Quality,Quotes,Sales,Supply,Wholesale,Produce.
Please feel free to give your inquiry in the form below.