Another invention patent of Longi was authorized by the U.S.
10-09-2021
Recently, Longi electromagnetic magnetic levitation concentrator successfully obtained the U.S. patent authorization, which is the Fourth International Patent obtained by the equipment after intelligence, Australia and Russia.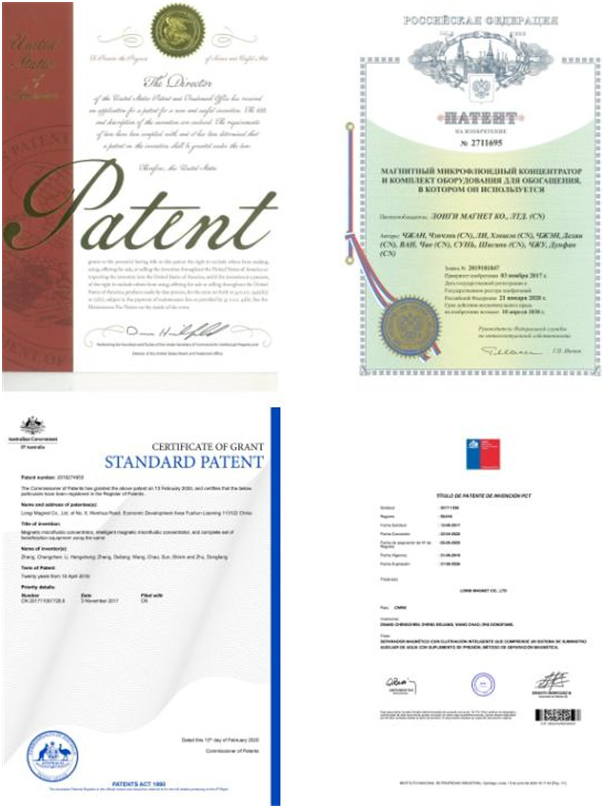 International patent application is not easy, which requires absolute novelty and strong technical gold content.The great harvest of the magnetic levitation concentrator in international patents proves that Longi has mastered the core technology of the maglev concentrator.
With the substantial growth of iron and steel production, iron ore mining continues to rise, and the demand for purification and quality improvement equipment is increasing.
In 2018, Longji launched a new generation of magnetic levitation concentrator to realize comprehensive iteration in sorting structure and control technology.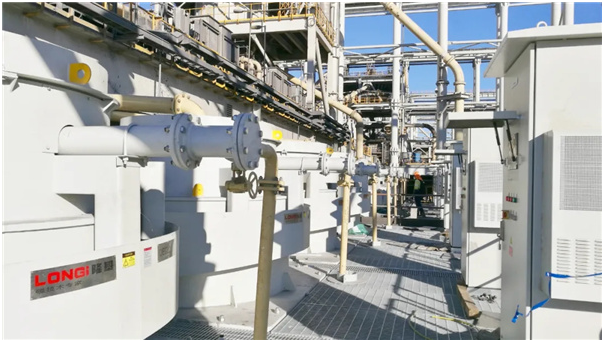 The new generation of magnetic levitation concentrator adopts the innovative separation structure of "surrounding ore feeding and central overflow", makes full use of the magnetic field space, realizes strong magnetic field ore feeding and effectively prevents tail running.
The weak magnetic field is used for tailing to prevent the conjoined body from re-entering the concentrate due to the strong magnetic field. In conjunction with the "double pulse magnetic field sorting" technology adopted in the sorting area, the purpose of actively dispersing and reuniting the magnetic chain repeatedly, accurately releasing the magnetic chain inclusions, and sorting accurately.
The implementation of a number of separation technologies has increased the concentrate grade of the equipment, lower tailings grade, higher concentrate recovery rate, water saving and energy saving.
At the same time, the magnetic levitation concentrator adopts intelligent automatic control technology, which can realize unmanned operation, remote monitoring and control of equipment operation, remote and local seamless switching, greatly reduce the management cost of the concentrator and help the development of intelligent beneficiation.
With its excellent product collection ability, orders for the second generation magnetic levitation concentrator have poured in, completing the transformation from strong to stronger.
While consolidating the domestic market, Longi actively opened up new overseas markets and steadily exported in batches, opening a new situation of Maglev concentrators overseas.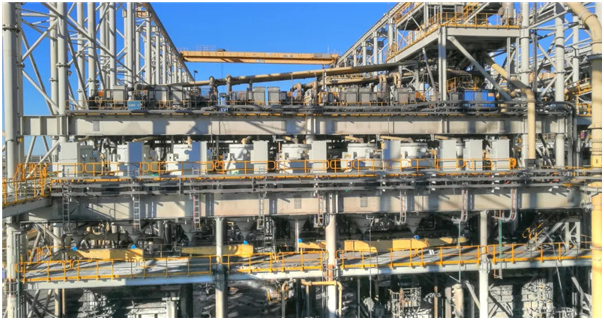 2020, the magnetic levitation concentrator set a new industry record. As a Chinese enterprise exporting large complete sets of magnetic gravity separation equipment to the global high-end mining market for the first time, it went to Australia to help the world's largest magnetite - CITIC Pacific Sino Iron ore project. With its excellent ability to improve production and quality, it was highly praised by customers and let the world see the strong strength made in China.
The acquisition of this international patent will speed up LONGi's steps towards the world and open up a broader market.
As a "patented harvester", the magnetic levitation selection machine is a great success in the domestic and foreign markets. It is just a microcosm of Longi's insistence on independent innovation. With high-quality development as the guide, Longi will create more miracles from the leading Chinese market to the forefront of the world. !